Perforated sheets have holes made by stamping or other working methods. Perforated sheets are versatile, durable and easily customizable materials that can be used both outdoors and indoors. Perforated sheets are used in construction forming durable and attactive facade solutions. They are also used  for examble in wall structures, roofs, protective sheets and visors. In industry perforated sheets are used in air conditioning systems, filtration, sorting and liquid separation, among other things.
Perforated sheet models

Round and square perforated sheets
Patterned and oval perforated sheets
Anti-slip sheets
Applications
Facades, balcony railings and lighting
Protective panels, stair railings, visors, wall structures and suspended ceilings
Separation, sorting, filtration and drying of liquids and other materials
Ventilation and air conditioning systems
Sheet sizes
1000 x 2000 mm
1250 x 2500 mm
1500 x 3000 mm
Custom models and sizes
We also supply perforated sheets in coils. We deliver standard sheet sizes directly from stock, custom models and sizes based on orders.
Materials
Carbon steel
Galvanized steel
Stainless steel
Aluminum
Brass – order material
Copper – order material
Perforated sheets are durable and versatile solutions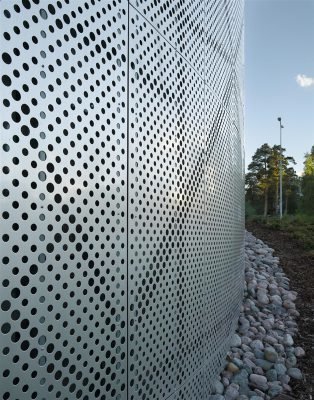 Perforated sheet metal is a versatile product that is suitable for various uses both inside and out. The perforated sheets are durable and easy to adapt according to the application and purpose. The price-quality ratio of the product is good. Different materials are at their best in different conditions – if you need help choosing a material, contact us. Together with the customer, we consider alternatives and offer solid technical experience, our own views and new ideas for material selection. Together we look for the best possible solution for each application and purpose.
Perforated sheet metal is used, among other things, in air-conditioning systems for both liquid separation and filtration. Perforated sheets are also an impressive surface material solution that is utilized both in the facades and interiors of buildings.
Our range of perforated sheets is very wide – we have more than 500 perforated sheet models in our selection. We operate as a reseller of the Danish RMIG in Finland. RMIG is the world's largest and widest manufacturer of perforated sheets. Only the sky is the limit of what we can supply.
Our factories have more than 100 years of experience
Our factories have over 100 years of experience in the industry. Long experience guarantees excellent professionalism and a high-quality technical result. Workers are top experts in their field.
We work with designers and architects
Perforated sheets are widely used in the facades and interiors of buildings. We work with architects and designers; we assist in material selection and jointly consider solution options.
Perforated sheets as custom-made
We also work with perforated sheets. Ask for a quote. We carry out, among other things, special sheet sizes, shape cuts, edging and bending. Special perforations, patterning, painting and other surface treatments are also possible with long experience.
Inquiries and orders
040 501 7628
jyrki.hamalainen@terastarvike.fi
Contact us!
See also: Gratings and treads